Member offers
"Special offer. Free one hour marketing 'hot fix'. Get an instant assessment of where you can grow sales. Think Beyond uses it's marketing toolkit to get you back on track - fast."
Merce Cozens, Think Beyond
"The Chamber of Commerce is now offering a 5% discount for membership to all the Business Network South Manchester members. For more information please contact Reet Dhallu."
Reet Dhallu, GM Chamber Of Commerce
"Steve Tempest is offering £100 of Amazon Vouchers to any Business Network member who refers a successful applicant to him."
Steve Tempest, WorldPay
"The Federation of Small Businesses have agreed to give members of the Business Network South Manchester a £30 discount on membership For further details contact Simon on 07766 493 428"
Robert Downes, Federation Of Small Businesses
"I would like to announce an offer of 35% off a Corporate ID/logo in the month of August only to any current member of the South Manchester Network"
Kate Fox, Fox Graphics Design & Marketing
"To help with the aim which is to get more member news on the South Manchester Professional Business Network website Souter PR is offering free consultancy on the story ? one for every member in the next three months ? to get it all kick started. So if you have got an idea for a story and need to develop it into a cracking read or indeed need to have a chat about what would make a good tale to showcase you and your business please contact us. Email roger@souterpr.co.uk in the first instance or call 01625 839319 and we will set it up. Fast, creative turnaround on all stories submitted . Think new clients, milestones with clients, new people, good growth, a new service area. Raise profile, differentiate, grow. Look forward to hearing from you! www.souterpr.co.uk your reputation is our business."
Roger Souter, Souter PR
"There is a discount of £30 to members of The Business Network South Manchester on their first year's membership of the Federation of Small Businesses."
Simon Edmondson, Federation Of Small Businesses
"Sinclair law are offering a 10% discount on their services to all members of The Business Network South Manchester."
Lucy Hart, Sinclair Law
"Would like to offer all Business Network members a 'Financial Protection Review' at no cost. Many small businesses are not protected should an owner/key employee be off work due to an accident/illness, struck down by a critical illness or worse still die. Easy & inexpensive solutions are available"
Roger Prydderch, Prydderch Financial Planning Ltd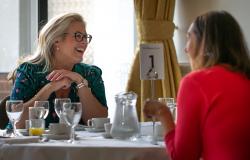 Come and join us at
OUR NEXT EVENT
Thursday 5th December
Manchester Airport Marriott, 10.00am - 2.00pm
What members and guests say
"It was a really enjoyable event. Professionally run in a quality hotel with quality people and food. Well Done Karen!"
John Redfern
John Redfern Associates
"Not only does Business Network make sense financially, it's a huge asset to business owner/managers and the 'lonely at the top' syndrome. There's a huge wealth of knowledge and regional business information within the South Manchester branch, high quality businesses and a tangible community feel about the whole group. If I need a contact or expert advice, or if I'm struggling with something, there?s always someone I can call and get a result. When you're running your own business, being able to access that support and 'business intelligence' is invaluable. So for me, South Manchester Business Network isn't just a professional networking group; it's a natural extension of my own business."
Penny Lines
No Nonsense Marketing