Member offers
"A free SEO audit of your website including a list of all keywords and pages your site is ranked for on Google, a list of any technical issues hindering your rankings and details of all backlinks into your site."
Martin Jones, Red Design
"Pop Up Banners - present your business effectively using a simple easy to assemble pop up banner. Price @Â120.00 for all The Business Network members.(special price and includes artwork)"
Sharon Taylor, Paragon Printing & Marketing Solutions
"Would like to offer all Business Network members a 'Financial Protection Review' at no cost. Many small businesses are not protected should an owner/key employee be off work due to an accident/illness, struck down by a critical illness or worse still die. Easy & inexpensive solutions are available"
Roger Prydderch, Prydderch Financial Planning Limited
"Best Business Enabler is giving a whopping 50% of the first invoice value to our introducers to find out more come and catch me for a chat."
Alice Jackson, Best Business Enabler
"Complimentary review of your digital marketing including a like-for-like comparison of your competitors."
Bernard McCabe, Dreamscape Solutions Ltd
"Complimentary export communication review for all members of the network currently exporting or thinking about exporting."
Helen Provart, Peak Translations
"Would like to offer a free consultation for up to one hour. It can relate to financial matters or general business advice."
Ian Goldman, Booth Ainsworth LLP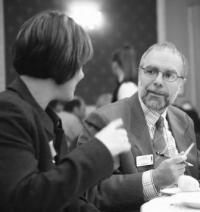 Come and join us at
OUR NEXT EVENT
Thursday 8th June
The Stanneylands, 12.00 noon - 2.00pm
What members and guests say
"Not only does Business Network make sense financially, it's a huge asset to business owner/managers and the 'lonely at the top' syndrome. There's a huge wealth of knowledge and regional business information within the South Manchester branch, high quality businesses and a tangible community feel about the whole group. If I need a contact or expert advice, or if I'm struggling with something, there's always someone I can call and get a result.When you're running your own business, being able to access that support and 'business intelligence' is invaluable. So for me, South Manchester Business Network isn't just a professional networking group; it's a natural extension of my own business."
Penny Lines
No Nonsense Marketing
"The Business Network South Manchester has undoubtedly facilitated steady growth in my business during the last year whilst increasing the number of invaluable contacts within my networking circle and I'm confident this will continue through into 2012.Your meetings are always well structured, productive and uplifting - what more could you ask of networking?I would not hesitate to recommend The Business Network South Manchester to all my associates and wish you continued, and much deserved, success in the coming year."
Tracey Richley
WPA