Event Dates
A list of all our forthcoming events.
August: Thursday 3rd, Alderley Edge Hotel, 12.00 noon - 2.00pm

Time - Registration 11.00am for a prompt 11.15am start

Presenter - Terry Hayward From The Alternative Board

Topic - Why It Should Not Be Lonely At The Top!

Synopsis:The Alternative Board (TAB) has, for 26 years, helped forward thinking business owners and leaders grow their businesses, increase their profitability and achieve their personal and business goals through a combination of peer-to-peer Advisory Boards and 1-2-1 business coaching. Over that time TAB Board Members have shared thousands of ideas, experiences and top tips which have helped their fellow members to pursue new opportunities and overcome the challenges and issues business owners face on a day-to-day basis. In his presentation Terry will be sharing just a few of these wisdoms with you.Content:You will leave the session with a few simple, practical ideas that can have an immediate impact on your business - not Terry's ideas but those gathered from other entrepreneurs and business leaders just like you!About The Presenter:Terry, a former Police Officer and a business owner himself has worked across numerous sectors over the last 20 years. He established his TAB business in 2016 and he now works with a range of SME clients in the SK region.

September: Thursday 7th, Manchester Airport Marriott, 12.00 noon - 2.00pm

Time -

Presenter -

Topic -

October: Thursday 5th, Manchester Airport Marriott, 12.00 noon - 2.00pm

Time -

Presenter -

Topic -

November: Thursday 2nd, Pinewood on Wilmslow, 12.00 noon - 2.00pm

Time -

Presenter -

Topic -

December: Thursday 14th, Pinewood on Wilmslow, 12.00 noon - 2.00pm

Time -

Presenter -

Topic -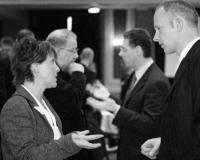 Come and join us at
OUR NEXT EVENT
Thursday 3rd August
Alderley Edge Hotel, 12.00 noon - 2.00pm
What members and guests say
"3 years! Its seems like only yesterday that I was fighting my way through the Cheshire lanes to the launch of a brand new networking group.These days, new networking groups seem to spring up like weeds, but this one WAS different. It ticked all my boxes and I decided to join at that launch meeting.And I'm still there after three years, because it did deliver on those initial expectations, and continues to do so!!Why do I continue to like The Business Network?Three Simple Reasons:1 - Its a pleasurable experience. Great lunches in nice locations each month. A structured meeting format, but not rigid. Great educational seminars. Meeting decision makers not salesmen as fellow members. Importantly , you feel you are among friends, all willing to help you.2 - It helps my business. As a digital marketing consultancy, the majority of our clients come through referrals. I have been introduced to a number of new clients by fellow members and met great companies to partner with through the network.3 - You don't know when you will meet your next client! As host, Karen works hard to attract new people to every meeting. As well as growing the membership, these visitors help to keep the meeetings fresh and dynamic. And hopefully some may need our Internet Marketing services!Happy 3rd Anniversary!"
Andy Wooles
WSI Internet Marketing
"Not only does Business Network make sense financially, it's a huge asset to business owner/managers and the 'lonely at the top' syndrome. There's a huge wealth of knowledge and regional business information within the South Manchester branch, high quality businesses and a tangible community feel about the whole group. If I need a contact or expert advice, or if I'm struggling with something, there's always someone I can call and get a result.When you're running your own business, being able to access that support and 'business intelligence' is invaluable. So for me, South Manchester Business Network isn't just a professional networking group; it's a natural extension of my own business."
Penny Lines
No Nonsense Marketing